Positive Training for Positive Results
Woof Gang Bakery & Grooming Augusta now offers professional obedience training Classes. Our certified trainers focus on providing you with the tools and knowledge you need to shape the polite behaviors that you want while curtailing the problem behaviors that are so frustrating. At Woof Gang we understand how important our fur family is to us and that's why we only use positive, scientifically proven, training methods.

Our classes focus on strengthening our human/dog bond, creating a safe space in which to learn, and using trust and respect to keep our dogs engaged and having fun. If you'd like to sign up for class, set up an appointment to meet the trainer, or have questions please contact us on our website or by phone at (706) 426-6212

Puppy Training (16 weeks old and under)
Our puppy class is designed to take full advantage of the most developmental period in your puppy's life. This class focuses heavily on controlled stimulus exposure. We will introduce your puppy to events, sounds, and situations that can often be frightening. By exposing them in a safe, inviting, and fun manner we can create positive associations instead of fear responses. The class also teaches puppies how to appropriately interact with other dogs and this can stop serious problem behaviors from developing later in life. This class also teaches basic cues such as focus, sit, down, and leave it. We will also discuss topics of problem behaviors and how to curtail them.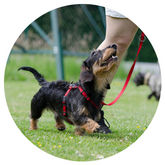 Beginner Training
Basic training gives you the tools to build a solid training foundation for your dog so that they can lead a safe, healthy, and happy life with you! Our Beginners Class will cover basic cues such as: focus, sit, down, stay, and come. The class will also discuss how to curtail problems like barking, biting/nipping, and jumping. Once your dog has a good understanding of these foundation skills, they can move up to more advanced classes that we provide.

Intermediate Training
Intermediate dog training coming soon!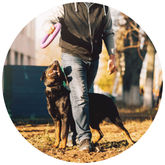 Advanced Training
Advanced Dog Training coming soon!

House Breaking & Potty Training
House training your pup is about consistency, patience, and also favorable reinforcement. The objective is to infuse good behaviors and develop a loving bond with your animal.
Specialists recommend that you begin house training your pup when they are between 12 weeks and 16 weeks old. Then, they have sufficient control of their bladder as well as bowel movements to discover to hold it. With Woof Gang Bakery & Grooming Augusta's expertise, we give you the devices as well as techniques to ideal house train your brand-new furever friend.
Come visit our pet supply store in Augusta, GA specializing in dog grooming, training, and quality food, baked pet treats, and supplies for cats and dogs.